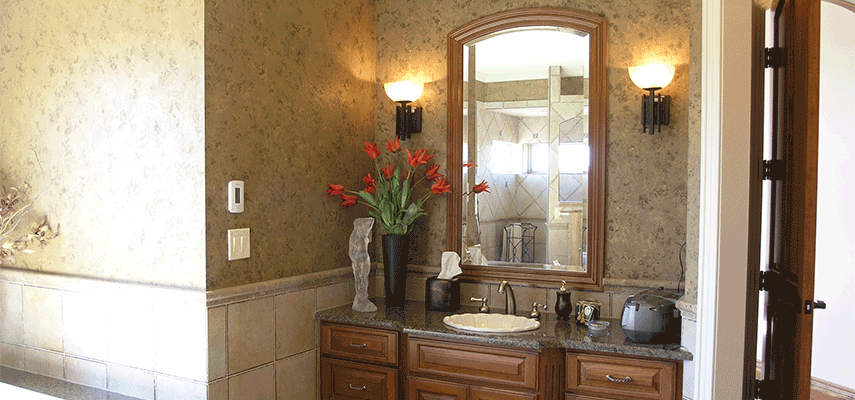 We've got your spa treatment
Every room deserves your very own Persona.
Secluded sanctuary or a seasonal showoff, let your bathroom become beautiful. As often as they're used and as important as they are, our bathrooms seem to get a back seat when we start thinking home remodel. But bathrooms can become more fun, fancy, functional, or all of the above. The key? A talented and skillful guide to bring out your personality and match it with your pocketbook. When it comes to Process, size doesn't matter, as all our projects follow the Persona Process.
The Persona Bath Design Experience
Step #1 – Let's meet
Is your bathroom dated? Carpeted? Not your style? Let's meet for your free consultation in your bathroom or (if you're starting from scratch) our showroom. Here we will discuss your goals, wants, needs, Pinterest boards, and Houzz dreams to help us learn more about you, your lifestyle and your style. You can expect candor about function, aesthetics, and budget, as well as measurements, photos, and conceptualizing.
Step #2 – Show me the spa
In our studio, we will present to you your custom designed bathroom created in our state of the art 20/20 software program.
Step #3 – Let's agree to agree
Let's seal it with a stamp. When you're sure you like us and our designs we'll have you sign a Design Service Engagement. This contract guarantees that both parties will see this project through to fruition.
Step #4 – Don't fret over the faucet
So you've seen our designs. You love them. Now, exactly which tiles are we getting? Don't worry, we won't leave you to sift through the hundreds of bathroom product books to pick out each little fixture. We have a trained eye and you have the final say. Together, we make a good shopping team.
Step #5 – Final plans and pricing
This is your "Say Yes to The Dress" moment. Or, Say Yes to the drawings, cabinets, fixtures, faucet, decorative accessories, and total price. Once we have confirmation, we can get in touch with our people for firm delivery and installation dates.
Step #6 – The countdown begins
Your bathroom now has a solid time frame to follow. And you will have a Flow Chart to follow along with. The Flow Chart we provide you will include a timeline of your project and of who you can expect to be in your house – for what, and for how long.
Step #7 – Happily in your home
Ahhh. At last. No dust. No hammers. No saws. When you're finally living in your home and not a construction zone we don't let you skip a beat. After our construction crew marches out, we make sure no screw was left out of place. And before we say our goodbyes, our cleaning crew comes through and makes your new bathroom really sparkle and shine.
Had our master bathroom remodeled.  Mark, Kelsey and the crew, Tim, Jay, Lance, and Kelly were wonderful to work with. Nothing but professional and personable. Was dealing with issues that took me away from home most days. I learned quickly that I could leave without hesitation. The quality of work done was top notch. I took pictures and ideas to Mark and Kelsey, from day one they did everything they could to give us what we wanted. We love our bathroom. Would highly recommend them and would use them again!